Sunset Garden Party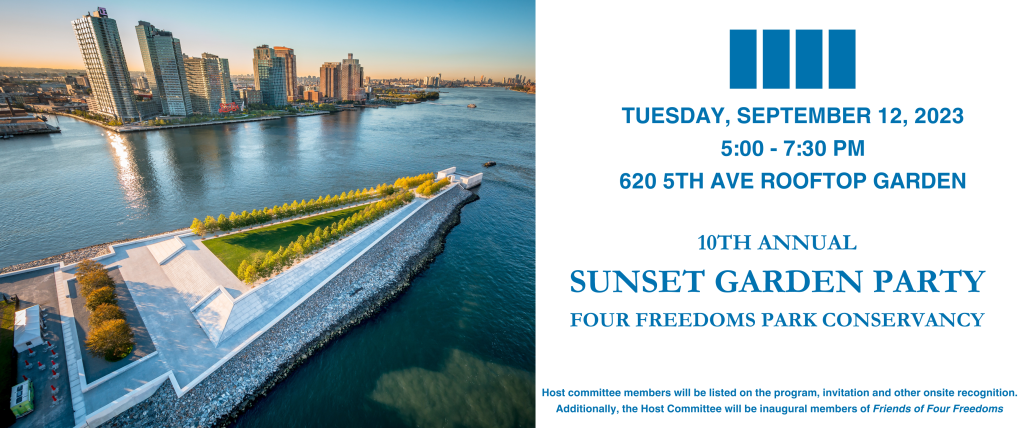 Tuesday, September 12, 2023
5:00PM – 7:30PM
620 5th Avenue Rooftop Garden
Program begins at 6:30PM
Four Freedoms Park Conservancy's 10th annual Sunset Garden Party
will celebrate our past achievements and unveil the future of the organization.
Building on our decade long success of producing art installations,
public performances, and events for 2 million visitors, the Conservancy is
embarking on an exciting, new journey with "Art4Freedoms".
This groundbreaking initiative will be the only juried
art commission program in the country to directly address human rights.
Coinciding with Art4Freedoms, we are launching Friends of Four Freedoms,
a community of passionate individuals who support open, dynamic conversations
around the intersection of the Four Freedoms, democracy, and human rights.
All members of the 2023 Host Committee will have additional benefits
as part of our Friends of Four Freedoms patron program.
Join us for a beautiful evening of celebration and cocktails at
Rockefeller Center, surrounded by the New York City skyline.
If you would like to pay by check, please mail your donation to:
Four Freedoms Park Conservancy
P.O. Box 5475
New York, NY 10185-5475